Bio/History
Edit
Punch is a Standard Clone Trooper who was assigned to Slick's squad in the 212th Attack Battalion.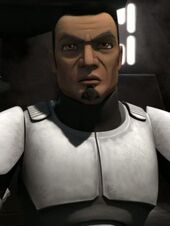 Very little is known about him, and he only appeared on-screen in the Clone Wars episode "Hidden Enemy", when him and the rest of his squad were on Christophsis battling and being interrogated.
Appearance
Edit
Punch wears Standard Phase1 Clone Trooper armor, while his facial appearance consists of having a "high-fade" haircut with long sideburns, and a small "stash" patch of facial hair similar to what Jester has (to distinguish himself from the other standard Clones.)
Trivia/Facts
Edit
Punch is one of the very first Clones to have side-burns and a small "stash". (Other than Jester.)
He looks very much like Jester, who was one of his partners.
Appearances
Edit
Star Wars: The Clone Wars "Hidden Enemy"
Star Wars: The Clone Wars Character Encyclopedia
Star Wars: The Clone Wars "Shadowed" web-comic
Ad blocker interference detected!
Wikia is a free-to-use site that makes money from advertising. We have a modified experience for viewers using ad blockers

Wikia is not accessible if you've made further modifications. Remove the custom ad blocker rule(s) and the page will load as expected.