Gus is/was a Standard Phase 1 Clone Trooper for Battalion Sergeant Slick's squad in the 212th Attack Battalion, who was one of the interrogators who questioned Slick for being a traitor.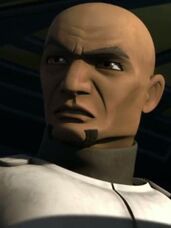 Gus served as a weapons specialist for Slick's platoon (to whom the platoon was unnamed), as well as assisting Jedi General Obi-Wan Kenobi and Commander Cody with weapon operations with Jedi General Anakin Skywalker an Captain Rex.
He eventually witnessed a traitor amongst the Republic, but originally assumed that it was his loyal partner Chopper. But Sgt. Slick eventually revealed himself as the traitor after attacking Captain Rex, Commander Cody, and Chopper.
Both him and the other members of his squad eventually were either killed or died of growth-acceleration towards the end of the Clone Wars Era.
Appearance
Edit
Gus wears Standard Phase 1 armor, while his facial appearance consists of being bald with a unique "double-stash" style of facial hair. (To distinguish himself from the other Standard Clone Troopers.)
Trivia/Facts
Edit
Gus is one of the very first and only Clone Troopers to have a "double-stash" style of facial hair.
Him and Chopper are the two most well-known members of Slick's squad. (Aside from their leader, of course.)
Appearances
Edit
Star Wars: The Clone Wars "Hidden Enemy"
Star Wars: The Clone Wars Character Encyclopedia
Star Wars: The Clone Wars "Shadowed" web-comic
Ad blocker interference detected!
Wikia is a free-to-use site that makes money from advertising. We have a modified experience for viewers using ad blockers

Wikia is not accessible if you've made further modifications. Remove the custom ad blocker rule(s) and the page will load as expected.