Bio/History
Edit
The DC-17m Grenade Launcher Attachment is/was a DC-17m blaster rifle with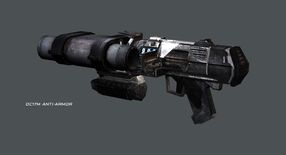 a unique grenade launcher attachment.
The attachment for the rifle was used during the Clone Wars by Republic Commando Scorch of Delta Squad, who also created the attachment. As well as grenade or thermal detonator containers for extra ammo on the sides of his datapack.
Trivia/Facts
Edit
Scorch was the only Commando who normally used the attachment for the DC-17m.
Ad blocker interference detected!
Wikia is a free-to-use site that makes money from advertising. We have a modified experience for viewers using ad blockers

Wikia is not accessible if you've made further modifications. Remove the custom ad blocker rule(s) and the page will load as expected.