Commander Doom was a
Clone Officer
under the rank of commander who served in the unit commanded by twin sister Jedi Generals Tiplar and Tiplee during the Battle of Ringo Vinda.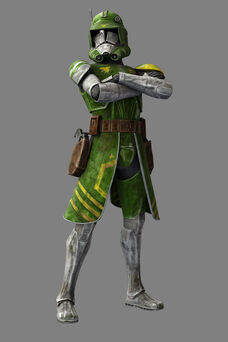 During the Siege of Ringo Vinda, Doom led the attack against the Seperatists on the orbiting space station and was eventually assisted with Jedi General Anakin Skywalker's unit. Though, as they began to proceed towards Admiral Trench's quarters, he oversaw the moment when Clone Trooper (specialist) Tup executed one of his own Jedi Generals and was forced to retreat, and futhermore accept such a tragic loss.
Although not much is known about this particular character, he was originally assumed to be Captain Lock and/or was once mistaken as Commander Gree.
Appearance
Edit
Commander Doom's armor consists of green, yellow, brown and white markings with a unique pattern reminiscent of Marvel character Doctor Doom.
His character model is basically a reskin and kitbash of Commander Fox and Commander Cody's Phase 2 armor character models used earlier in the series. He essentially has Cody's torso, while retaining the rest of Fox's body.
Trivia/Facts
Edit
Doom's marking pattern or color scheme (with the extent of his name) are loosely based after Marvel character Dr. Doom. Commander Thorn (another Clone commander sharing the same reskinned character model of Fox) is also a Marvel-based Clone Trooper character, whom pays homage to Thor.
Ironically, his name also foreshadowed the overall feeling or emotion of the episodic story arc that he was featured in.
Commander Doom and Commander Thorn were some of the first new, non-animated style Clone Wars characters to be released in Hasbro's Star Wars action figure toy line in 2015. Phase 2 Commander Fox was one of the final animated-style Clone Wars figures to be released in the US and internationally prior to the cancellation of the line in 2013. Sadly, all nine of the "new" figures (updated or retooled versions of previously released characters) released in early 2013 were distributed in select countries and regions (notably Canada and the UK).
The Phase 2 501st Jetpack Trooper was the only remotely new character (despite being a repaint), thus making him the final animated-style Clone Wars character to ever be released; excluding hybrid molds like Desert Armor Commander Wolffe and the Jedi Temple Guard released in early 2015.
Appearances
Edit
Star Wars: The Clone Wars "The Unknown" (First Appearance)