Bio/History
Edit
Commander Colt was an ARC Trooper or Officer under the rank of Commander. He wore experimental Phase 2 armor, and was the lead Clone Officer or training officer of the Rancor Battalion, which was a Clone Cadet training group. To whom he served as a demonstrator to demonstrate his armor capabilities, as well as a drill instructor on Kamino.

He eventually met his fate after the Battle of Kamino, where Assajj Ventress killed him.
Appearance
Edit
Colt wears Experimental Phase 2 Armor; like with the other Experimental Phase 2 ARC Troopers; with red and grey markings.
Trivia/Facts
Edit
Commander Colt is/was one of the very first Clone Troopers to ever wear Phase 2 armor in both the Clone Wars Era (chronologically), and the Clone Wars series.
He was also one of the very first (and only) Experimental Phase 2 ARC Officers/Troopers.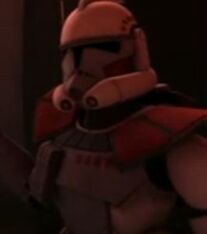 ARC Trooper Hammer
very much resembles Colt, yet he has slightly different markings, and was
supposedly
a
successful cadet
who became an ARC Lieutenant for Rancor Squad. (
*This is unknown; it is an assumption.*
)
Apearances
Edit
Star Wars: The Clone Wars: "Clone Cadets" (First Appearance)
Star Wars: The Clone Wars: "ARC Troopers" (Fate)
Ad blocker interference detected!
Wikia is a free-to-use site that makes money from advertising. We have a modified experience for viewers using ad blockers

Wikia is not accessible if you've made further modifications. Remove the custom ad blocker rule(s) and the page will load as expected.